Sage Creek I & II
June 12th & 13th, 2020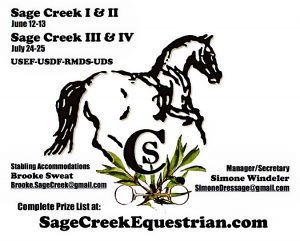 RIDE TIMES:
SCI- 
SCII- 
For details and prize list click link below
Prize List Link: 
Entry Form: 
Registration Links:
If you do not have an account set up please follow the steps to set up an account
Then find Sage Creek I and II on the calendar by selecting UT on the calendar page.
You must contact SAGE CREEK management for stabling reservations, email Brooke at Brooke.SageCreek@gmail.com. Paying for it on your entry will not guarantee a reservation.
 If you wish to enter via mail please use the UDS entry form-
Press on photo to enlarge 
June
SHOW RESULTS
SCI-
HIGH POINT WINNER SCI-
SCII- 
HIGH POINT WINNER SCII-
SC TEAM CHALLENGE RESULTS-