Tweet
Rebecca is USDF Bronze and Silver Medalists, along with 2013 and 2015 Impact of The Horse Champion.
Rebecca Harmon has been very committed to developing a quality education while developing her personal skills training horses. Roughly ten years ago she started her journey at Sage Creek Equestrian. Her first goal was to be the Mountain Valley Stampede Rodeo Queen. Soon after she made that dream happen she started to fulfilled her dream in becoming a horse trainer. She worked hard as a working student riding lots of colts. After putting in lots of hard working hours she was able to start taking on clients. She has performed with horses and on stage in the Wild West Show production. She also has since then achieved a State and National title in Dressage and has competed in the FEI this is the Top levels in the sport. Rebecca loves to compete in other competitions such as the Impact of the Horse. She was named Champion in 2012 on Mike Shearer's mustang Gator! Rebecca also appeared in the Wild Horses of the West documentary by Kued. Click the link below to watch.
Gator!
Horse trainer, teacher, stunt woman, wrangler
Rebecca doesn't only expect her horses to stay physically fit. She lifts and trains in the gym and keeps her muscles working much like she does with her horses in dressage everyday. She also practices healthy eating habits.
She has also decided to start incorporating fitness classes for her clients and others. She believes its so important to have a strong chore in riding, and is so excited to incorporate what shes learned in the gym into her horse training program.
In her free time she also enjoys country swing dancing!
Rebecca is coming back to the Impact with another amazing Mustang this year. She's ready to fight for her title. Meet Athena!! You can see these two compete Nov 11 and 12th at the Wasatch County Event Center In the Impact of the Horse Domestics vs. Mustangs Competition.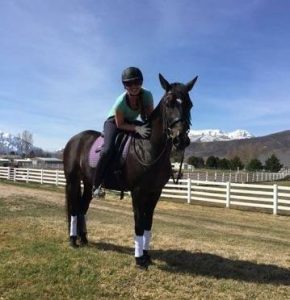 Clinic With Kristi Wysoki with Enzo Warmblood cross. Enzo did very well this show season in First level. He qualified for Regionals in his first show of the season. Highest scores were 67% and 68%.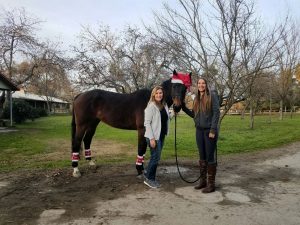 Congrats Hollie on your purchase of the Beautiful Warmblood Whimfamous in March.
This horse has been amazing this Summer also qualified for regionals at his first show in June with high scores of 68% and 70% in Training Level.
FAVORITE BOOKS: SOME OF HER FAVORITE AUTHORS ARE NICHOLAS SPARKS AND SUZANNE COLLINS.
Favorite Vacation Spot: LOVES TO VACATION IN SOUTHERN CALIFORNIA! THE BEACH IS A GREAT PLACE TO TAKE A BREAK.
Jim Hicks Clinic in Bruneau Idaho
Wild West Show!
Student schooling for a competition!
Photo shoot for Eclectic Horseman's Gazette!
Clinic with "Gary Rockwell" Olympic level Dressage Judge!
https://www.facebook.com/beccajane34