Sage Creek Winter Dressage Festival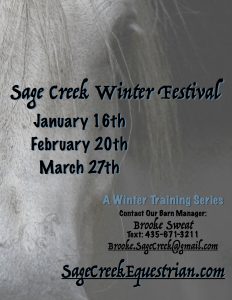 January 16th Show
(Mail-In Entry Deadline Jan 9th & Online Entry Deadline Jan 12th)
Judge: Sydni Peterson 
February 20th Show
(Mail-In Entry Deadline Feb 13th & Online Entry Deadline Feb 16th)
Judge: TBA
March 27th Show
(Mail-In Entry Deadline March 13th & Online Entry Deadline March 16th)
Judge: Jan Lawrence
Our 2021 Shows will strictly follow the guidelines set by the USEF, in conjunction with the CDC.
Sage Creek Owners and Management will be taking the following precautions under those guidelines:
Stabling areas will be restricted to essential personnel only.                     (i.e. Riders, Grooms, Farriers, Vets and Officials.)
Alcohol-based hand sanitizer will be available in frequented areas. 
Restroom facilities and show office will be clean and sanitized. 
Closed to public spectators. 
Number of participants has been limited in order to decrease gathering size, so please get your entries in as soon as possible!
Thank You for your continued support to the sport of Dressage throughout this time. 
~Sage Creek Owners & Management~
Sage Creek Equestrian
3181 West 3000 South Heber, Utah
Manager/Secretary: Brooke Sweat
Brooke.SageCreek@gmail.com   435-671-3211 & 208-221-7608
Contact Brooke Sweat for Online Entry Information. 
*Please notify the Show Secretary of the group or Trainer that you will be participating with at the time of entry*  
Click Below for *NEW* Entry Form
Winter Festival Application 2020 
Class #    Level      Test        Division
1             Intro        TOC      0, AA,Jr/YR
2             Training    1         0, AA,Jr/YR
3             Training    2         0, AA,Jr/YR
4             Training    3         0, AA,Jr/YR
5             First           1         0, AA,Jr/YR
6              First          2         0, AA,Jr/YR
7              First          3         0, AA,Jr/YR
8            Second       1         0, AA,Jr/YR
9            Second       2         0, AA,Jr/YR
10          Second       3         0, AA,Jr/YR
11           Third      TOC      0, AA,Jr/YR
12         Fourth      TOC      0, AA,Jr/YR
13         FEI all     TOC       o, AA,Jr/YR
ENTRIES: Mail to Brooke Sweat: Make checks payable to Sage Creek Equestrian. $25/Class Fee, $5 Progressive Pool (mandatory), $15 Trailer/Grounds Fee (Stabling OR Grounds Fee), $20 Non-Refundable Secretary Fee. $50 Return Check Fee
STABLING: For day stalls ($30) or overnight stalls ($45)
Provisional ride times will be available two days before show by e-mail
SCRATCHES/REFUNDS: No refunds after closing date unless vet or health certificate is provided AND the ride time can be filled.
AWARDS: Three show cumulative over all highpoint prizes, with a one time distribution of a progressive entry pool to a random competitor. There will be "three" over all festival champions. 1. Jr/Yr  2. AA  3. Open
Please specify Adult Amateur (AA), Open (O) or Junior/ Young Rider (Jr/YR) on entry form.
ALL MOUNTED RIDERS MUST WEAR AN APPROVED ASTM/SEI HELMET WITH THE CHIN STRAP SECURED