Tweet
November 5th & 6th, 2021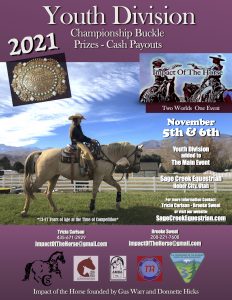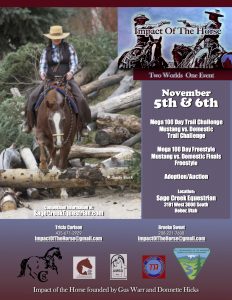 Mega 100-Day Application:
Impact Mega 100-Day Rules:
Mustang vs Domestic Adult & Youth Application:
Mustang vs Domestic Adult & Youth Rules:
Location:
Sage Creek Equestrian
3181 West 3000 South
Heber City, Utah 84032
Schedule:
FRIDAY  November 5th, 2021
11:00am: Rugged Mountain Trail Challenge: 
Mega 100-Day Mustangs
Youth Division
Lunch Break
Mustang vs. Domestic- Main Division
SATURDAY  November 6th, 2021

11:00am: 
Freestyle Finals:
Mega 100-Day Finalists
Youth Division Finalists
Lunch Break

Mustang vs. Domestic- Main Division Finalists
Championship Awards Ceremony
4:30pm:

  Adoption/Auction 
Impact Of The Horse
Our Goal:
To promote the Mustang as a viable horse for adoption through the platform of  Impact Of The Horse.
This competition brings both Domestic and Wild Born Horses together in a friendly competition followed by both a Mustang & Burro Adoption.
The current estimated on-range Wild Horse and Burro population (as of March 1, 2016) is 67,027,  a 15 percent increase over the 2015 estimate of 58,150.
That means the current West-Wide On-Range population exceeds AML by more than 40,000.
The population of Off-Range (unadopted or unsold) Wild Horses and Burros maintained in holding facilities is more than 45,000 as of August 2016.
*  BLM – Utah, Wild Horse & Burro Public Affairs, Marketing & Outreach
Lisa Reid
*  BLM – Salt Lake Field Office, Wild Horse & Burro Specialist
    Tami Howell
*  BLM – Utah State Office, State Wild Horse & Burro Program Manager
    Gus Warr
Jim Hicks and his Mustang Ringo.
The mustang that inspired the partnership between BLM and Sage Creek Equestrian.
Sponsor a Mustang
Sponsor a Stang & Rider Combo
For more information contact:
Founder:
Donnette Hicks
ImpactOfTheHorse@gmail.com
Impact Hosting Manager:
Tricia Carlson
ImpactOfTheHorse@gmail.com
Impact Coordinator:
Brooke Sweat
ImpactOfTheHorse@gmail.com
The American West is rich with Horses, Cowboys and Pioneer Heritage.
A sanctuary of rugged desert that meets rolling hills, where one will find the free roaming American icon, the Mustang.
Drought conditions across the West have impacted the sanctuary of rangelands, leaving little water and forage for America's Wild Mustang herds.
Sage Creek Equestrian has been in partnership with the Bureau of Land Management for Ten years, since its opening. and has created a platform for Impact of the Horse, a competition created for the plight of the American Mustang to showcase the usability of our Wild Born Legacy.
Impact of the Horse takes place Friday November 11th and Saturday November 12th at the Wasatch Event Center:
415 Southfield Rd, Heber City, UT 84032
Three divisions of the contest:
1. Impact of the Horse: Mustang vs Domestic:
A friendly competition between seasoned Domestics and the Mustang.
Day One: (Friday November 8th) is a Rugged Mountain Trail Class.
Day Two: (Saturday November 9th) The Top 5 Domestics and Top 5 Mustangs come together for a Freestyle Championship.
2. Impact of the Horse: 100 Day Mega Impact Division:
A group of trainers will have drawn for them 10, five-year-old Mustangs and have 90 Days to prepare for day one ( Friday November 8th ) a Rugged Mountain Trail class.
Day Two: (Saturday November 9th) the Top Five enter the Freestyle Championship.
Pick up for the 100 Dayers TBA
3. Impact of the Horse: Youth and Mustang Division:
Ten Mustang yearlings will be drawn for our youth division.
These competitors have 60 days to get ready for their Championship Freestyle class on Saturday November 9th, 2019
Pick up for the Youth and Yearling TBA
The Youth Halter Division is now accepting applications.
The criteria for the youth division is that the yearling is adopted by the parent, however there will be an adoption and placement Saturday afternoon for the youth to find a home for their horse.
All applications must be filled out by the parents only.
All youth that are participating in the Impact of the Horse Youth & Halter Division need to have experience with young horses, as well as the adult that is assisting to be sufficiently knowledgeable.
The Youth Halter Division will have sixty days to work with there young horse.
All Competitors who are picked for the youth halter division will automatically go straight to the Youth Halter Championship.
The competitors will be required to perform a four minute Musical Freestyle.
This entails that the competitor have exactly four minutes of music. The class is all in-hand.
The components are: Walk & Trot both directions, Stop & Back a minimum of eight steps, Lift one front & one Hind Hoof, and work with Poles/Logs.
Each Youth will be paid:
•$200 for feed/hauling expenses
•$200 for competing in the 4-min Musical Freestyle
•Monies will be paid to the top 6 placing for the Freestyle Event
•Adoption proceeds minus $25 Adoption Fee
If the horse is not adopted at the event, then it is up to the adopter to find a home for the horse to be reassigned.
The application due date needs to be postmarked no later than August 29th.
Adoption is $25.00 and paid at the time of pickup. Horses will be picked up on TBA from the following facilities:
Delta, Salt Lake or Cedar City.
We need a high resolution close up photograph of competitor and their biography.
* Any updates and changes will be sent via email to the all competitors.
Tickets pre purchase $20.00 Saturday
At the door $15.00
Ten and under Free
*Adoption Saturday the 9th Free and *open to the Public
*Public preview in barn area
*open to the public