https://eclectic-horseman.com/understanding-how-children-learn/
The Journey Within by Donnette Hicks
Tweet
Donnette's passion is in the art of the equine human relationship. She enjoys capturing the journey through many expressions — photography, poetry, film, coaching champions and most of all being a full time student of the horse.
The Impact Of The Horse was born out of her desire to merge a private enterprise, Sage Creek Equestrian, with the BLM Wild Horse and Burro program bringing a new possibility of human partnership for America's wild mustang herds. Donnette started working with starting colts and working with problem horses under the tutelage of Ben Quinters. Ben introduced Donnette to the world renowned horseman Ray Hunt and thus the desire to understand a willing partnership was born and has been her driving goal now for over 30 years.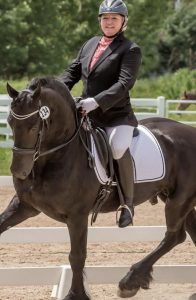 Donnette is a well educated horseman specializing in Dressage. Her purchase of a Grand Prix German school master catapulted Donnette into developing a deep understanding of quality upper level movements. Donnette's greatest devotion is her love of witnessing humans succeed in having a beautiful partnership with their horse.