Sage Creek Winter Dressage Festival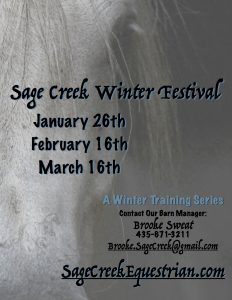 January 26th Show
(Entry Deadline January 19th)
Judge: Amanda Olson
February 16th Show
(Entry Deadline February 9th)
Judge: Sydni Peterson
March 16th Show
(Entry Deadline March 9th)
Judge: Jan Lawrence
Sage Creek Equestrian
3181 West 3000 South Heber, Utah
Manager/Secretary: Brooke Sweat
brooke.sagecreek@gmail.com  or  435-671-3211
Click Below for Entry Form
Sage Creek Winter Dressage Festival Entry Form 2
Class #    Level      Test        Division
1              Para         TOC     0, AA,Jr/YR
2             Training    1         0, AA,Jr/YR
3             Training    2         0, AA,Jr/YR
4             Training     3        0, AA,Jr/YR
5             First            1         0, AA,Jr/YR
6              First          2         0, AA,Jr/YR
7              First          3         0, AA,Jr/YR
8            Second       1         0, AA,Jr/YR
9            Second       2         0, AA,Jr/YR
10          Second      3         0, AA,Jr/YR
11           Third       TOC     0, AA,Jr/YR
12         Fourth     TOC      0, AA,Jr/YR
13         FEI all     TOC       o, AA,Jr/YR
ENTRIES: Mail to Brooke Sweat: Make checks payable to Sage Creek Equestrian. $25/class fee, $5 progressive pool $10 trailer/grounds fee; $15 non-refundable secretary fee. $50 return check fee
Provisional ride times will be available three days before show by e-mail
SCRATCHES/REFUNDS: No refunds after closing date unless vet or health certificate is provided AND the ride time can be filled.
STABLING: For day stalls ($25) or overnight stalls ($45)
AWARDS: Three show cumulative over all highpoint prizes, with a one time distribution of a progressive entry pool to a random competitor. There will be "three" over all festival champions. 1. Training- First level.  2. Second-Fourth Level.  3. FEI.
Please specify Adult Amateur (AA), Open (O) or Junior/ Young Rider (Jr/YR) on entry form.
ALL MOUNTED RIDERS MUST WEAR AN APPROVED ASTM/SEI HELMET WITH THE CHIN STRAP SECURED