True Unity by Tom Dorrance
True Unity by Tom Dorrance
Click on book cover to go to the Eclectic Horseman for Purchase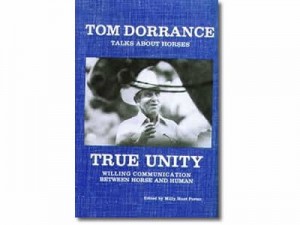 Tom Dorrance has been referred to as the "horse's lawyer. "Tom gives the horse credit for his knowledge of a horse's feelings and problems. He says, "What I know about the horse I learned from the horse."
Now, in True Unity, Tom shares some of these ideas to help achieve a true unity for human and horse.
In talking about the horse Tom mentions often the horse's need for self-preservation. The self Tom approaches in the horse is a total entity. True Unity allows the reader to feel and see the horse in the way Tom sees and feels the horse. It allows the reader to approach the horse with Tom — to approach the horse with a feeling of acceptance for the value of the whole horse — physical, mental and an innermost horse.
A unique bonus feature of True Unity is a chapter presenting some of Tom's student s as the share how Tom's help with their horses changed their horses' and their lives.